Jeff has been a long time customer and contributor to BBQ Pro Shop and whenever we cook BBQ with Jeff, if we can get him to make his Mac and Cheese as a side dish, everybody wins! In honor of National Mac and Cheese day, we were able to get him to share this with you, with bonus tips and step-by-step instructions.
So, here's how to make Jeff's "world famous" Mac & Cheese – Step by step with a few bonus tips at the end. This version of the classic family dish is a favorite of kids and adults alike with a crispy crunchy topping and creamy cheesy pasta.
Warning: There will be no leftovers!
Ingredients:

Topping:
½ stick unsalted butter
2 cups panko bread crumbs
¼ lb. coarsely grated extra-sharp Cheddar (1 1/2 cups)
½ cup grated Parmigiano-Reggiano

Sauce & Macaroni:
1 stick unsalted butter
6 tablespoons all-purpose flour
5 cups whole milk
1 lb. coarsely grated extra-sharp Cheddar (6 cups)
½ cup grated Parmigiano-Reggiano
2 teaspoons salt
½ teaspoon pepper
1 tablespoon mustard powder
1 lb. elbow macaroni
(Optional) Shark Brand Sriracha, Killer Hogs Hot Sauce or Risky Brisket Hot Sauce, to taste.
Make topping:
Preheat oven to 400°F with rack in middle.
Melt butter, then stir together with panko and topping cheeses in a bowl until combined well. Set aside.
Make sauce:
Melt butter in a heavy medium saucepan over medium-low heat and stir in flour gradually to form a roux.
Cook the roux, stirring, 3 minutes, then whisk in milk.
Bring sauce to a boil, whisking constantly, then simmer, whisking occasionally, 3 minutes.
Stir in cheeses, salt, pepper, and mustard powder, until smooth.
Remove from heat and cover surface of sauce with wax paper.
Make Macaroni:
Cook macaroni in a pasta pot of boiling salted water (2 tablespoons salt for 4 quarts water) until al dente. (approx. 11 minutes)
Reserve 1 cup cooking water and drain macaroni in a colander.
Stir together macaroni, reserved cooking water, and sauce in a large bowl.
Transfer to 2 buttered 2-quart shallow baking dishes.
Sprinkle topping evenly over macaroni
Bake until golden and bubbling, 20 to 25 minutes.
Tips & Tricks:
1) Because it is such a simple recipe, quality ingredients can really make a huge difference. I always go to my local cheese merchant for extra-sharp cheddar and Parmigiano-Reggiano. This results in a much smoother béchamel sauce that coats the macaroni noodles beautifully. I also use Kerry Gold Butter and whole milk from a local dairy whenever possible. And I make sure the panko breadcrumbs are fresh. Stale ones will ruin your topping.

2) Make sure the boiled milk & roux mixture has really simmered down before you add the cheeses. If it's too hot, the cheddar will separate,

3) The starchy water helps the whole mixture come together when it bakes. Don't forget to reserve some when you are draining the macaroni!

4) The mustard powder adds depth to the cheese sauce and also acts as an emulsifier helping the water and fat to bind together giving your sauce a smoother texture overall. You could also substitute sodium citrate for an even silkier sauce.

5) I often stir some Shark Brand Thai Sriracha or other sweet & savory hot sauce into one of the two pans to give it a little heat. I've found that Crystal, Tabasco, and Cholula all add a distinct flavor and fire to the creamy pasta. Use one of these brands or your own favorite hot sauce if you can't find the Shark Brand Sriracha.
BEFORE: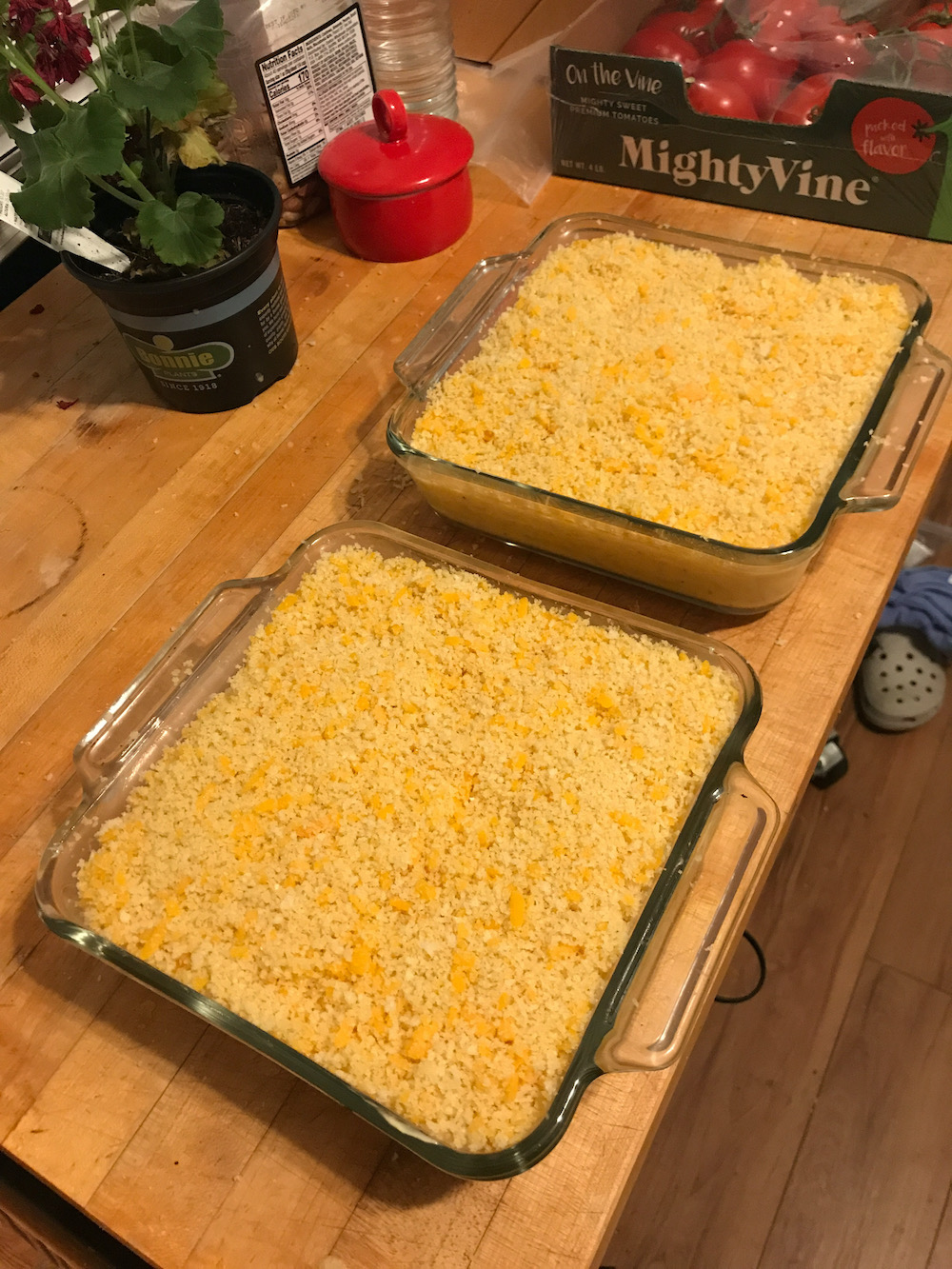 AFTER: