It's no surprise that we think our customers create amazing and delicious meals - you all Cook like Pros! Our friend David sent us a few photos of this incredible Chili that he created and we begged him to share the recipe with all of you!
Featuring Oakridge BBQ Smokey Chili Lime All Purpose Rub, a sous vide and then smoked pork shoulder, and insanely delicious hatch green chilis - this recipe is sure to keep you warm on these cold winter days! Combining so many incredible flavors from the Southwest - you might also feel like you're on a mini-vacation while you eat it.
Be sure to tag us in your photos when you try out this amazing recipe (and let us know if you make any tweaks!)
New Colorado Hatch Chili
Cooking: Sous Vide, Smoking & Cooktop
Recipe: David Levine
Master Rub: Oakridge BBQ Smokey Chili Lime All Purpose Rub
2 tablespoon bacon drippings
1 tablespoon olive oil
3+ pound bone in pork shoulder (boston butt)
1 yellow onion, chopped
1-2 ears of yellow or white corn
3 cloves garlic, minced
1 medium shallot, chopped
1 quart chicken broth or more (thickness vs broth)
1/2 lime juice
2 teaspoons salt, 1 teaspoon cracked black pepper
2 teaspoons dried ground coriander
1 teaspoon cumin ground
1 teaspoon sweet smoked paprika
2 teaspoon hot chimayo chile powder or adobe chile powder
1 teaspoon of your favorite chili powder
1 1/2 tablespoons Mexican oregano
14.5 ounces can chopped tomato undrained-add more if you desire.
15 ( 1 ½ - 2 cups) hatch chili peppers roasted, skinned, and chopped. (mild, med or hot)
* If hatch chilis are not in season, sub with Anaheim and use jalapeño (or your choice) for added spice.
Season the pork shoulder with Oakridge BBQ Smokey Chili Lime All Purpose Rub. Vacuum seal and leave in the fridge for 24-48 hours. Sous Vide the pork shoulder at 145º for 24 hours. Remove from Sous Vide and either continue to the next step or re vacuum seal and place in a cooler until ready to smoke. Prepare your smoker, 250°
Drain the juices (you can save them for a homemade sauce). Pat dry and then add another layer of Oakridge BBQ Smokey Chili Lime All Purpose Rub. Smoke for about 2-3 hours or until you have a nice bark. Add the corn to the smoker with some husk on for 30 minutes. Remove the pork and let rest for 15 to 20 minutes. Shred the meat with two forks leaving nice size pieces. Set aside.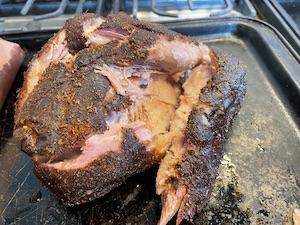 Heat the oil and the bacon drippings. Add the onion and shallot and cook until soft, about 6-8 minutes. Add the garlic and cook until fragrant, about 1 minute. Add the shredded pork, canned tomatoes, chicken broth (leave1½ cups), salt, coriander, cumin, oregano, chili powders, corn (off cob) fresh line juice, and chiles. Bring to a boil and then simmer on low for at least 1 hour, 2 hours being ideal. Make sure to stir often.
Serve with warm flour tortillas or chips. You can also add a dollop of sour cream or shredded Monterey Jack cheese with some chopped roasted hatch chili peppers.
*Pork shoulders vary. Some may be fattier. In the end, after cooked, you should have around 2+ pounds of shredded meat, give or take a half pound.
*Add the extra broth if you want a less thick chili. If you want to thicken it up you can mix 2T of cornstarch with 2T of water and let simmer for 15-30 minutes. You can also add more tomatoes and pork.