Looking for an authentic, impressive and inexpensive BBQ centerpiece for your next backyard party, family gathering or catering event?
Look no further than "pork butt burnt ends," a fun recipe that will show off your pitmaster skills while wowing your guests with a mountain of smoky, sticky meat morsels.
If you can pull off respectable pulled pork, you'll have no problem mastering pork butt burnt ends. Best of all, you can do most of the cooking a couple days in advance, making them ideal for big gatherings. Be sure to check out our recipe at the end of the post for a foolproof process.
Table of Contents
What equipment is needed for pork butt burnt ends
How to prepare pork butt burnt ends
Factory Team recipe: Smoky & Sticky Pork Butt Burnt Ends
What are pork butt burnt ends
Let's just get this out of the way: Real burnt ends come from beef brisket. They're fatty, succulent and bursting with beef flavor. The only thing pork butt burnt ends share in common with brisket burnt ends is their cubular shape.Pork butt burnt ends are simply pork shoulder that's been smoked, chunked, braised and glazed to produce a six-sided vehicle for delivering maximum BBQ flavor to your mouth.
What equipment is needed for pork butt burnt ends
Pork butts don't care what kind of smoker, grill or equipment you use, as long as it's big enough to hold the butt and capable of producing indirect heat somewhere in the 225-325F range.
For our recipe, you'll want to make some good smoke at the beginning and end of the process.
It doesn't matter if you're getting it from split logs, charcoal, wood chunks, chips or pellets – just run your favorite flavor and let the smoke work its magic.You'll also need one or more foil pans for the braising step, and a wire rack for the glazing step.
How to prepare pork butt burnt ends
The end goal is perfectly tender bite-sized cubes of pork shoulder, with tons of smoky, sticky BBQ flavor, courtesy of your favorite sauce. The cook requires a 3-step process:
Step 1: Cook a generously seasoned bone-in pork butt through "the stall," but not much farther. In this step, we're looking to lay down a nice, smoky bark and get the pork cooked to the point where it's just starting to pull away from the bone but still has plenty of body to allow for chunking into sharp cubes.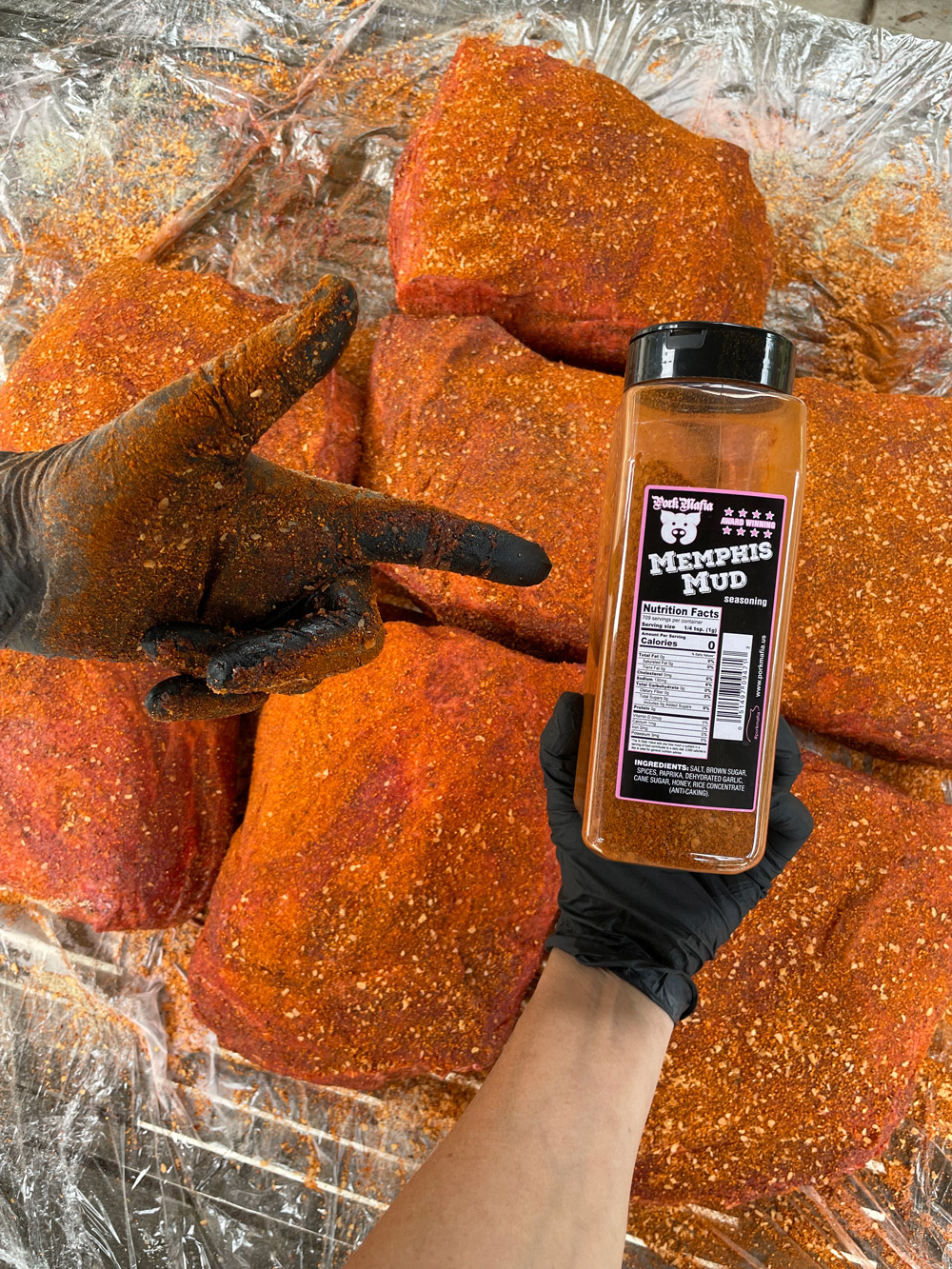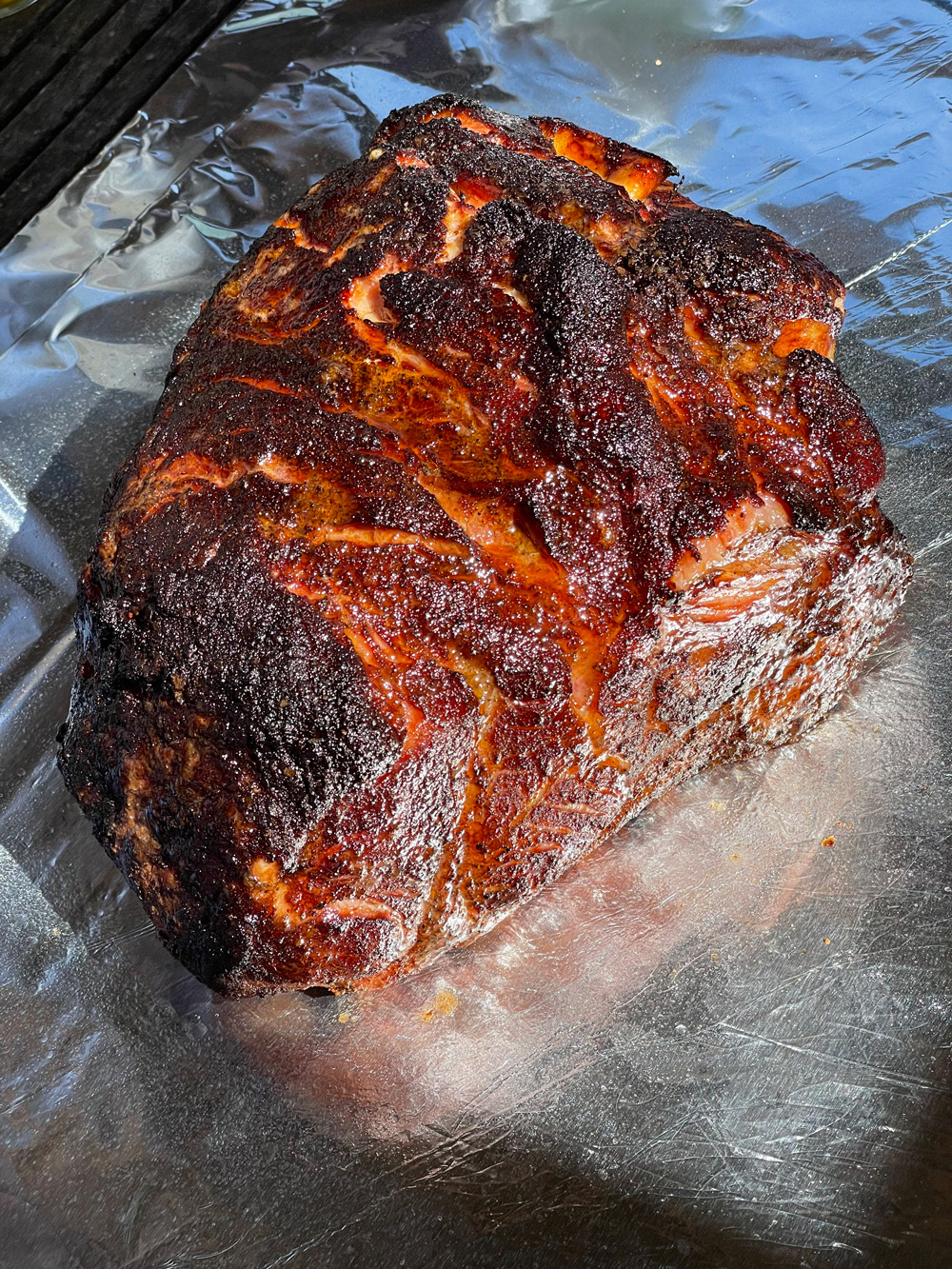 Step 2: Chunk and braise the pork butt.
Wearing insulated gloves, remove pork from the cooker and chunk it into 1" cubes. Transfer to a disposable aluminum pan. (A deep half pan will hold a single pork butt, or a standard full pan can hold two butts.)
Add braising liquids and flavors, stir gently, then cover and seal the pan with a sheet of foil.
Return to cooker or a preheated oven and braise at 275-300F for 2-3 hours.
The most important thing is to keep the temperature hot enough to braise, and to stick with it until the cubes are pleasantly tender, but not yet falling apart.
If you're cooking in advance, this is the point to stop. Just let them cool off, transfer to an airtight container and store in the fridge for up to 3 days before completing Step 3.
Step 3: Glaze and finish the cubes.
Now that the pork's fully cooked and tender, all that's left is to apply the finishing touches that make the recipe comealive, like icing on a cupcake.
Remove chunks from the braising pan with a slotted spoon and transfer to a large bowl. Toss gently to coat thoroughly with your favorite sauce, then arrange cubes on a wire cookie rack.
Place the rack back in your cooker, maintaining 275-300F, and finish for approximately 15 minutes until sauce is fully set and sticky.
We love to add an extra shot of smoke at this point, since the braising process will have toned down whatever smoke you added in Step 1.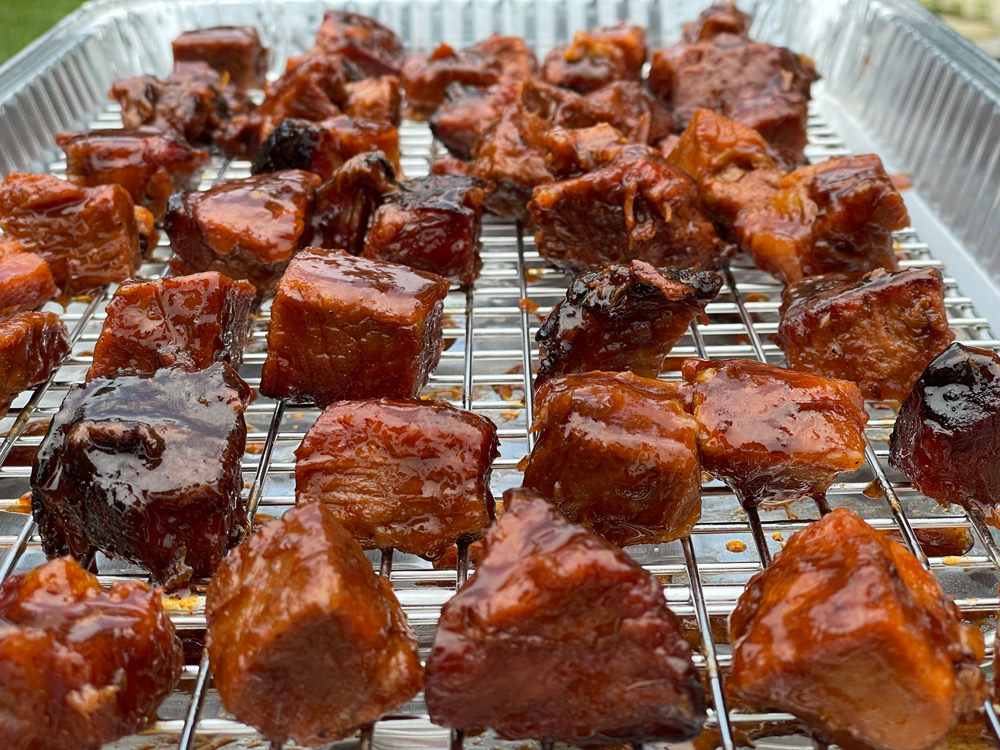 How to chunk a pork butt
Start by removing the fat cap, if you left it in place for the initial cooking. You don't want all that grease messing with your flavors during the braising process.
Next arrange the butt with the "horn end" – the side with the bone – to your left. With a long butcher knife, start working from the right side, making 1" slices all the way through the butt until you start running into the bone.
Then rotate the remaining piece 90 degrees clockwise and take out a couple more good slices until you hit bone again.
From there, simply lay each slice flat on your cutting board and slice it into 1" cubes.
Finally, scoop out the remaining pieces from around the bone with your finger. You won't get perfect cubes from this part, and it'll typically be much further along in the cooking process than the rest, so you might as well set those parts aside for an amazing pitmaster snack.
Recipe for Smoky & Sticky Pork Butt Burnt Ends
Smoke Freaks, the BBQ Pro Shop Factory Team, developed this recipe for public events because it's easy on the wallet, most of the heavy lifting can be done in advance, and the impressive final product is perfect for sampling.
But it works just as well as a backyard party appetizer that can be glazed and served in batches, or even served on a bun with fixins for an unforgettable BBQ sandwich.
Ingredients
1 8-10 lb. bone-in pork butt or shoulder roast
Pork Mafia rubs: Sweet Pink, Greek Mafia and Memphis Mud
1 and ½ cups brown sugar
1 cup + 2 TBSP apple or pineapple juice
1 bottle Pork Mafia Cochon Dippin Sauce
½ cup honey or maple syrup
1 stick butter
Process
Prepare a smoker or grill for indirect cooking at around 250F
Dust all sides of pork butt with a light to medium coat of Pork Mafia Sweet Pink; let stand for at least 15 minutes.
Apply a medium coat of Pork Mafia Greek Mafia
Apply a medium to heavy coat of Pork Mafia Memphis Mud
Place butt in cooker, smoke 5-7 hours, or until pork breaks through stall and is around 170F internal temperature
Using insulated gloves, carefully remove butt from cooker and rest on a cutting board
Using a butcher knife, chunk pork into uniform 1" cubes
Transfer cubes to a disposable foil pan and add Brown sugar, 1 cup of the apple or pineapple juice, Half of the Pork Mafia Cochon Dippin Sauce, Honey and Butter.
Cover pan with foil and braise in a 275-300F smoker or oven for 2-3 hours until pork is tender
Remove pork cubes from braising liquid and transfer to a stainless steel bowl
Mix remaining Cochon Dippin Sauce with 2 TBSP apple/pineapple juice and pour over pork cubes
Toss gently until cubes are well coated, then transfer to a wire cookie rack
Return to smoker at 275-300F for 10-15 minutes until sauce is caramelized
Serve immediately
Mr. Freak is pitmaster of Smoke Freaks, the BBQ Pro Shop Factory Team. He and his partner, Ms. Freak, are the tongues and testers behind the FACTORY TEAM FLAVOR GUIDE.