2022 is shaping up to be The Year of Flavor. Lucky for you, because as the BBQ Pro Shop Factory Team, flavor is what we're all about!
So far, we've run about 300 seasonings through our Flavor Guide evaluation and testing criteria. That's a lot of flavor. And a lot of FLAVOR GUIDES to see how different seasonings bring out the flavor and to find the ideal levels of salt, sweet, savory and heat to match your cooking style.
We're proud to introduce the 2022 ESSENTIAL SEASONINGS KIT, a collection of some of the most exciting and noteworthy rubs that made our taste buds sing this year.
AWESOME APs
I love all-purpose (AP) seasonings because I can use them in any style of cooking, while making a delicious occasion out of anything from sheet pan veggies to wagyu brisket. Heading out on an AirBnB vacation? Drop one of these in your suitcase and thank me later.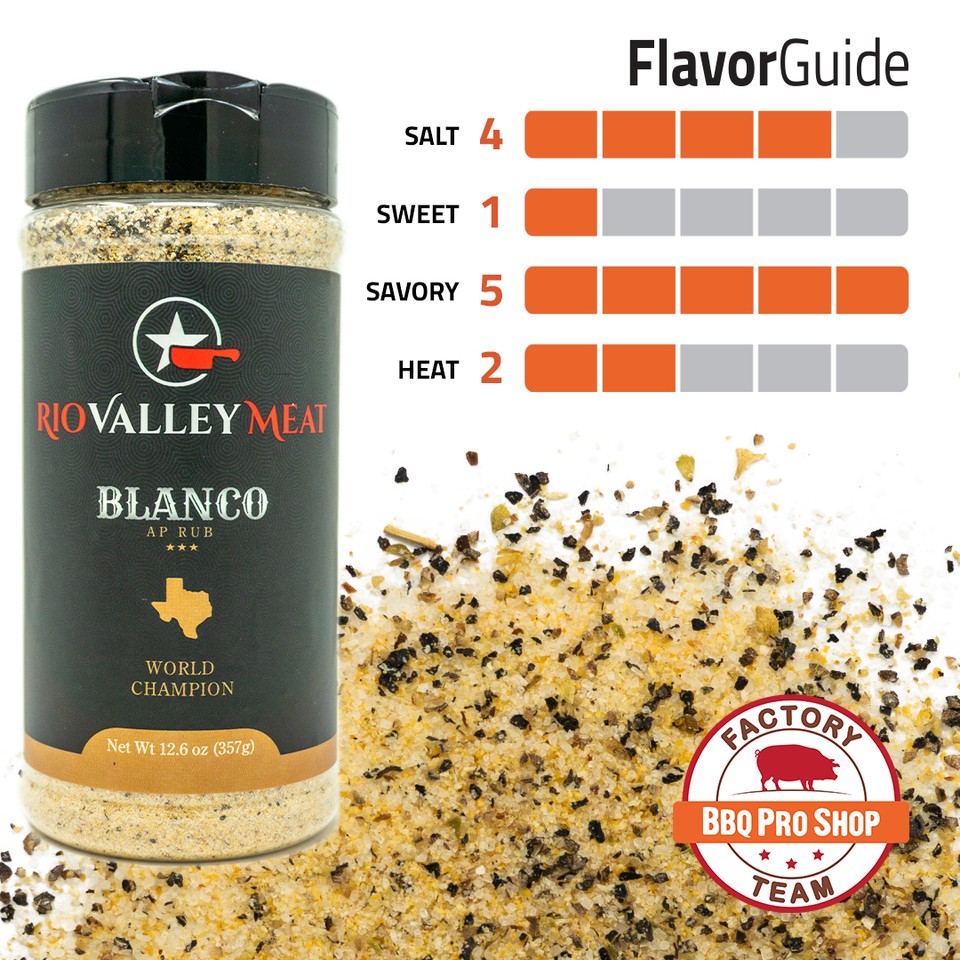 RIO VALLEY MEAT - BLANCO opens with a blast of garlic and onion, followed up by a soothing and refreshing sweetness way in the back. The mild black pepper finish makes this blend perfect for just about anything and anyone. Mr. Freak and I both classify it as an extra-special standout.
ALL Q'UED UP - STATELINE BOLD deserves a prime spot in your cabinet, thanks to a big
garlic flavor boom, a wave of salt and a hint of underlying sweetness. The jalapeno and black pepper flavors linger and creep ever so slightly, making this a great choice when you want to add a spicy kick.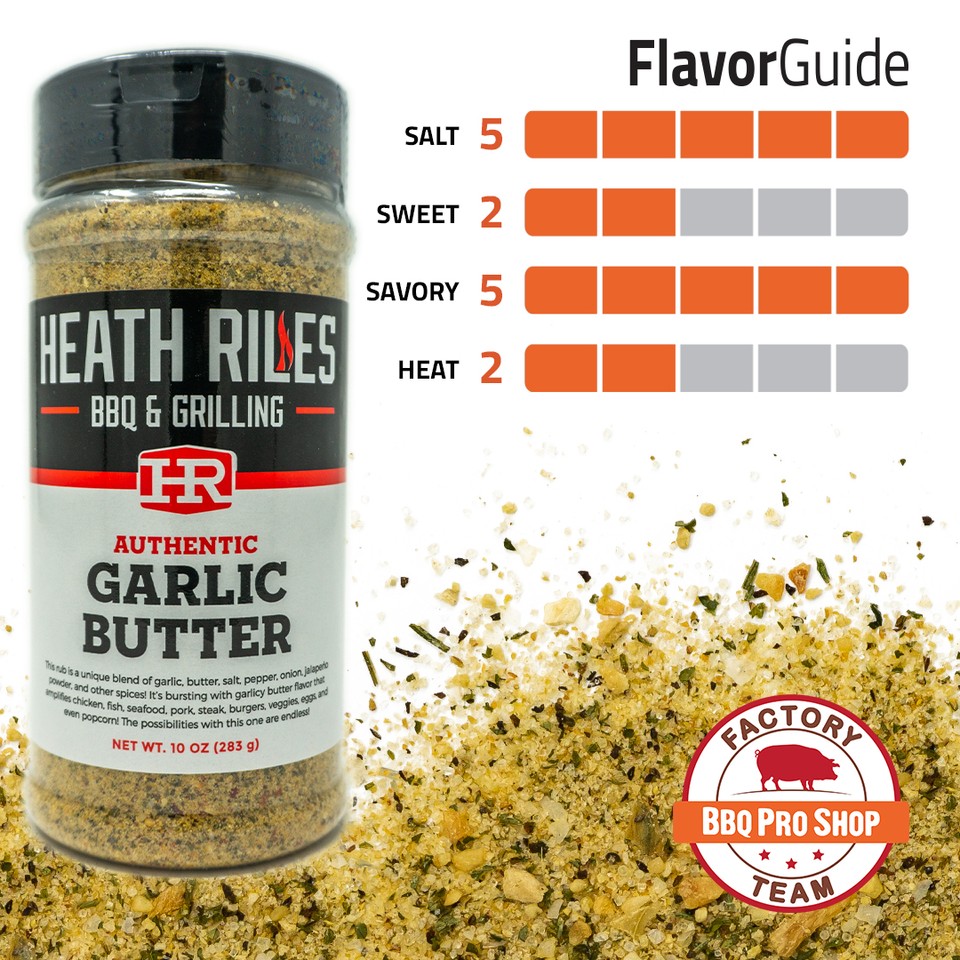 HEATH RILES BBQ - GARLIC BUTTER is money in a bottle with a big hit of salty, garlicky and buttery flavors. It's big and bold, and there's something about the natural butter flavors that keeps us coming back for more.
Try these AP seasonings as part of a rub layering strategy or all by themselves. Each of them has the versatility to work magic on the grill, smoker or as part of your favorite stovetop and oven recipes.
CLASSIC BBQ RUBS
A classic BBQ rub entails a few predictable elements – salt and garlic/onion flavors, red or orange paprika for color, plenty of sugar and a nice, spicy kick. But don't make the mistake of thinking they're all alike! These stand-outs claimed a spot in the front row of our BBQ cabinet this year because they each do "classic" in their own special way.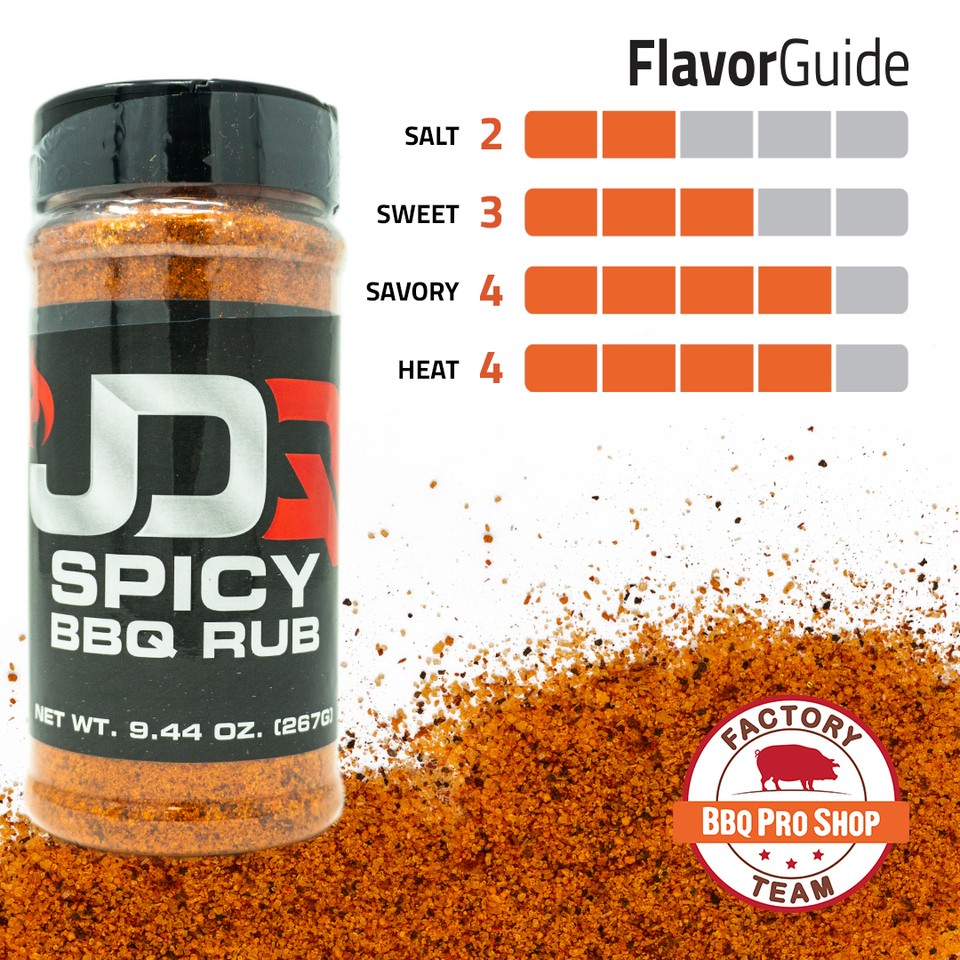 JDQ - SPICY BBQ RUB is Mr. Freak's latest go-tos for ribs, because he's a sucker for the smoke-infused spicy hit it delivers. Although the heat level registers a click above average, it falls in most folks' comfort zone, and the spices are well tempered by a flavor base of brown sugar sweetness and garlic/onion savories.
FLAPS 20 - C.P.R. SWEET QUE RUB delivers a honey-laced sweetness while mellow garlic flavors lend supporting structure. Then comes a slow creeping heat that builds with each bite. C.P.R. stands for chicken, pork and ribs, and we can attest that it's a winner on all three. Pretty awesome on a nice piece of salmon, too.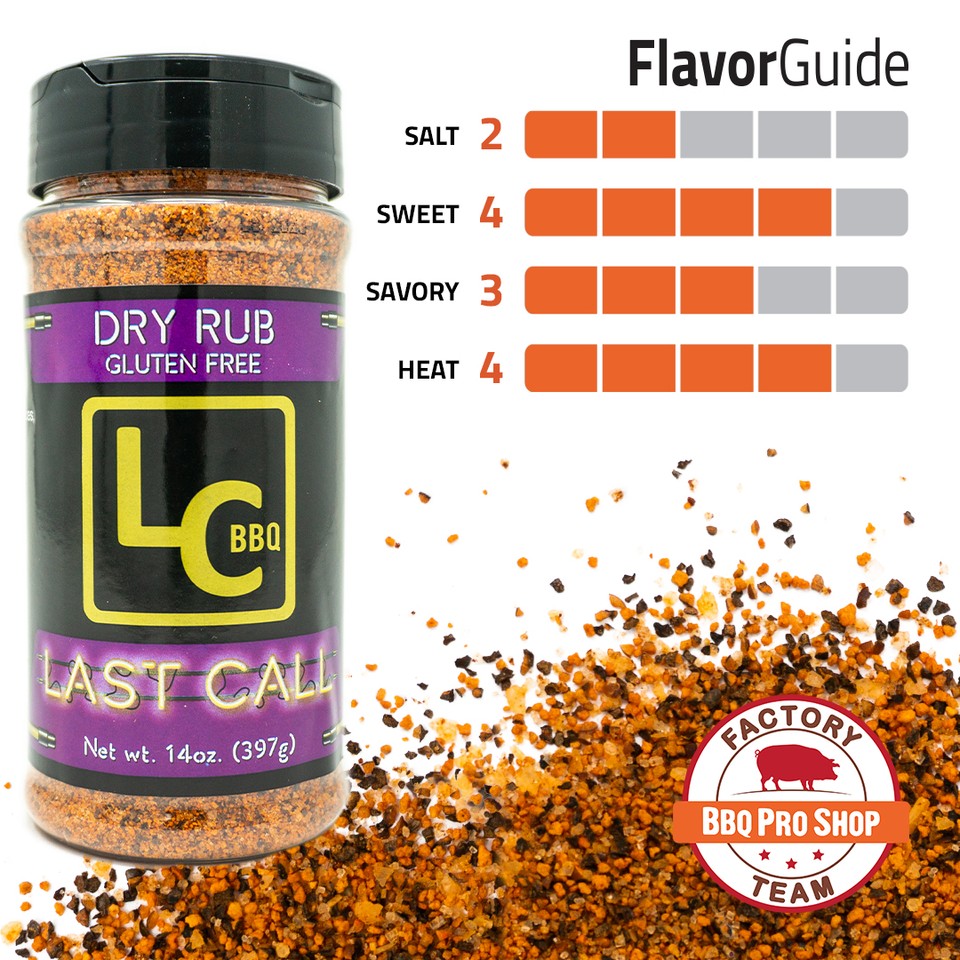 LC BBQ - LAST CALL dazzled us in our blind Flavor Guide testing last summer, becoming an instant favorite for pork and ribs. Sweet, addictive fire-kissed heat sits in the driver's seat from the very first taste. Put this in your cart and don't look back.
We think these rubs shine brightest on pork, chicken and seafood cooked on the smoker or grill.
STEAK, BEEF & BEYOND
Who says a "steak" rub is just for steak? Liberate your taste buds and experiment with flavors that excel at beef, while going beyond bovine boundaries for use on just about everything.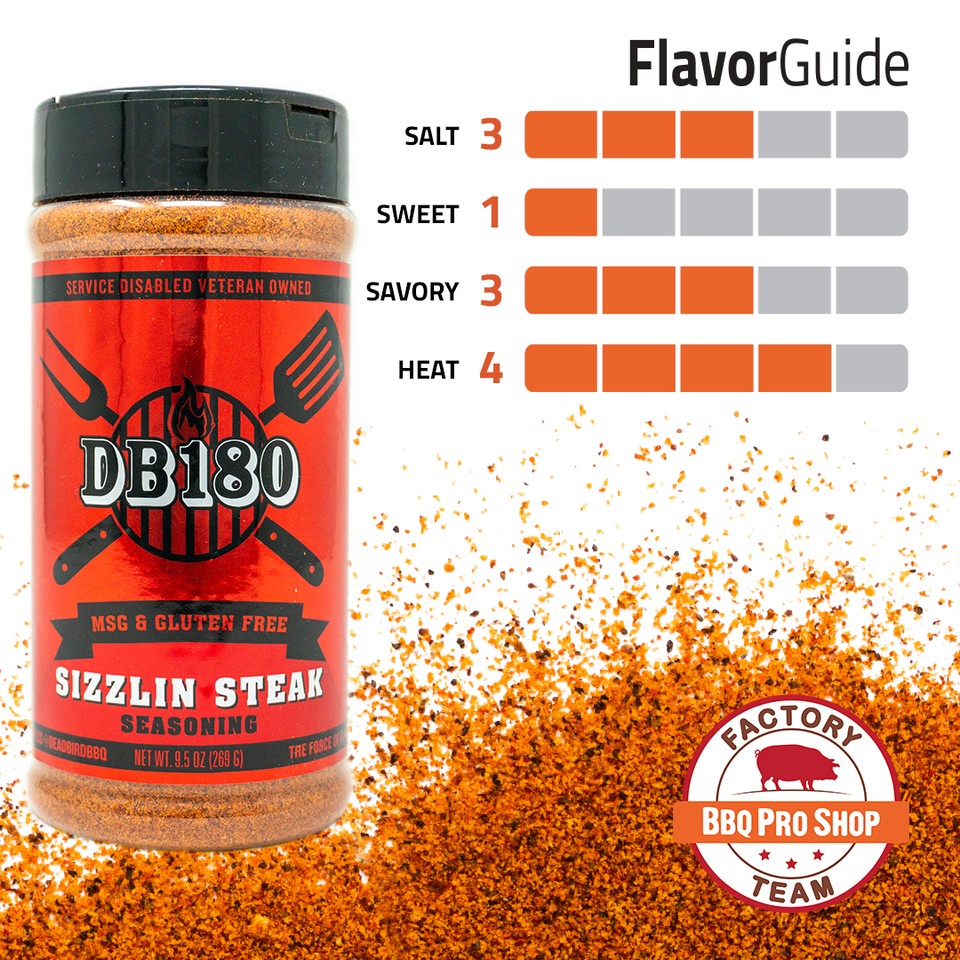 DB180 - SIZZLIN STEAK is a wonderfully balanced hot rub. Garlic, onion and salt provide the backbone, while an unmistakable hot pepper kick lingers but doesn't go over the top. There's no sugar, so it's perfect for the grill and other high-temp situations.
SUCKLEBUSTERS - CAMPFIRE STEAK SEASONING is great as an all-purpose seasoning, but those big pieces of cracked black pepper scream steak to us. It registers low on the Flavor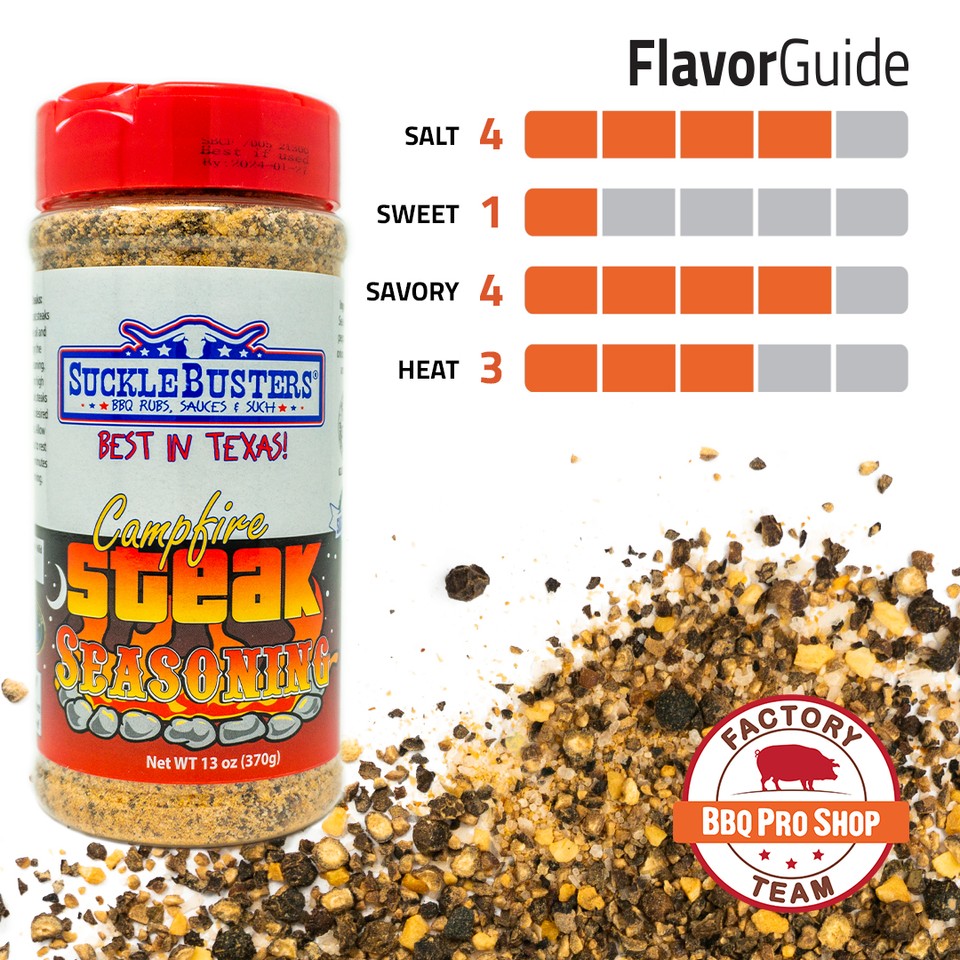 Guide sweet scale, making it great for high-temp grilling. This one's for you, black pepper lovers!
TWISTED STEEL - STEAK APPEAL is a perfect example of a little bit of sweetness working wonders on beef. It's well-balanced, full-bodied and fantastic with a delightful creeping heat. There's a beefy, buttery quality that just adds to the richness. Used by many on the Steak Cookoff Association circuit.
While all of these rubs will help you produce a mind-blowing steak, they each make the case for all-purpose status, so don't be afraid to try them anywhere you'd use salt and pepper.
MORE MUST TRYS
BIG D'S - GAME ON is in a class of its own, thanks to a bunch of herbs and spices including turmeric, which brings a remarkable orange-yellow color. The flavor isn't BBQ per-se, but it's absolutely delicious. Use this on pork, poultry, seafood and game for an elevated and complex flavor experience.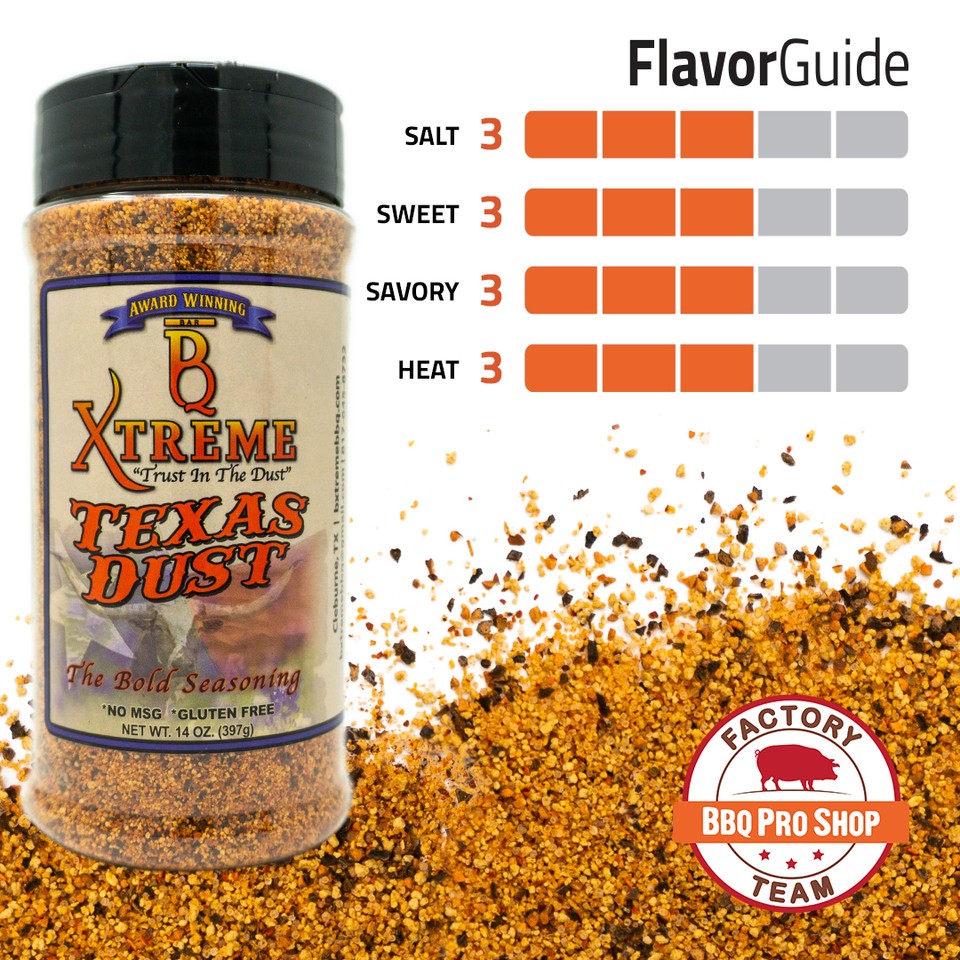 B XTREME - TEXAS DUST boasts a 3-3-3-3 Flavor Guide profile, which means all four flavor dimensions are singing their songs at the same volume. There's something about the equal balance of salt, sweet, savory and heat flavors that gets us every time. A must for pork chops.
Tell us your own essential seasoning picks at FACTORYTEAM@BBQPROSHOP.COM.
And check out the FLAVOR GUIDE for more of our flavor ratings, usage tips and flavor notes.
Ms. Freak is head cook of Smoke Freaks, the BBQ Pro Shop Factory Team. She and her partner, Mr. Freak, are the tongues and testers behind the FACTORY TEAM FLAVOR GUIDE.